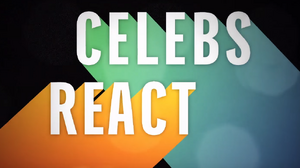 Celebrities React was a one off series of The Fine Bros' React series. It premiered on the Fine Brothers YouTube channel on August 14th 2014. It featured various celebrities.
It was then revived as a new series under the name Celebs React. The 8 half an hour long episodes were released on Fullscreen starting on November 1st 2016. Segments were uploaded to the FBE channel which is what is covered below.
FBE has also released other one-off episodes featuring various celebrities and special guests which are also featured below.
Note: Stats up to date until CELEBS REACT TO TRY TO WATCH THIS WITHOUT LAUGHING OR GRINNING (Shadowhunters Cast).
Episodes:
Edit