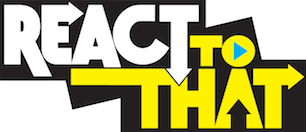 React to That was the first television show done by the Fine Brothers. It was a more kid-friendly version of the Kids React and Teens React shows, featuring Reactors watching various videos, albeit with differences such as the absence of the "Question Time" segment. The cast was mostly the same from the YouTube series, along with guest stars and new additions, three of whom joined the Teens cast the following year.
It aired on Nickelodeon for over two weeks, beginning on December 15, 2014 and ending on January 1, 2015. It aired every weekday - despite the fact it was originally envisioned as a weekly show - a run of 12 episodes, with a 13th that was ordered by the network never being aired. In Episode 15 of the FBE Podcast, Benny and producer Jon note the show actually got good ratings.
Segments
Edit
Finish the Story - One of the Reactors break down their prediction of what happens next in the viral video.
Challenge - The Reactors try to challenge and attempt to surpass goal and achievements done in the viral videos they watch. In a podcast, it was noted as "original generation Challenge Chalice".
Don't Smile Challenge - Like on the Try Not To Laugh Challenge (already featured on the YouTubers React segment, later spun into its own show), the Reactors have to try to not laugh. If they smile or laugh, they're eliminated.
Which is...? - The Reactors vote which of the two viral videos is better.
Real Or Fake - The Reactors determine if the viral video is actually real or faked.
Remix - Similar to the Challenge Segment, the Reactors try to replicate the stunts and tricks seen on the video.
What Was Your Favorite? - The concluding segment where the Reactors pick their favorite viral videos of the episode.
Originally from Kids React
Originally from Teens React
Eventually moved to Teens React
Episodes
Edit
Episode Code
Episode Title
Airdate
Videos Featured
S1E1
Fart Attack and World's Largest Slingshot
December 15, 2014

World's Largest Slingshot
Fart Attack
Paper Airline Distance Record
Dog Siren
Becks Snores Like A Duck
Pumped Up Kicks/Dubstep
3 Year Old Must Argue
Never Ending Sneezing Bear
Do You Like Waffles?
Sheep Walking On Two Legs
Kitten Vs. Tail
10 Hits In 10 Seconds
Mr. G And Jellybean

S1E2
Can't Stop the Headbang and Baby Monkey
December 16, 2014

Zach King Vines
Can't Stop The Headbang
Fastest Clementine Peel
Domino Fail
Bike Blooper
Slo-Mo Water Baloon
Tiny Hamsters Eating Tiny Burritos
You Forgot The Blueberries
Baby Monkey On A Pig
Cookies Kid
Gorilla Vs. Goose
Dog Steals Cabbage
Kido's First Shell Game

S1E3
Skydive Out Front Door and Guitar Impossible
December 17, 2014

Skydiving Out My Front Door
Frog Jumps In Girl's Mouth
Most Baseballs In One Hand Held Upside Down
Longest Football Spin
Most Ping Pong Hits On The Spine Of The Paddle
Twins Dancing To Daddy's Guitar
Sleepy Spaghetti Twins
Guitar Impossible
HowToBasic Videos
Weird Laughing Workout
The World's Larges Pile Of Fingernail Clippings
Baby LED Costume
Daring Doggy Dentist
Self Siphoning Beads

S1E4
Geese Tsunami and Bubble Wrap Bike
December 18, 2014

Hair Music
My Beatboxing Niece
Patience Test
Cornhole Prodigy
Anamorphic Illusions
Kitten Falls Asleep
Baby Falls Asleep
Halloween Dog Parade
Badgers, Badgers, Badgers
Dog Response To Human Barking
Geese Tsunami
Bubble Wrap Bike
One Man, 155 Shirts

S1E5
Insane Domino Tricks and Hamster on a Piano
December 19, 2014

Baaaa
Frisbee Trick Shots
Amazing B-Ball Juggling Tricks
Biggest Chicken Egg
World Record Toilet Paper Un-Roller
Hamster On A Piano
Mishka The Talking Husky
I Don't Even Know
Rubber Band Vs. Watermellon
Duck Attack
Baby Laughing At Ripping Paper
Escaping Baby Pandas
Insane Domino Tricks

S1E6
Magic Beard and Speed Boat Frisbee Catch
December 22, 2014

Human Bowling
Noah's Photo Day For 12 Years
Egg Face Balance
Dog Sees Dad After 6 Months
Dog Licks Baby
Guitar Basketball
Magic Beard
I Feel Dizzy
Mama Bear Rescues Cub
Speed Boat Frisbee Challenge
Matty The Sloth
Fingers In Mouth
The Bucket Prank

S1E7
Sleeping While Skiing and Cat vs. Friend
December 23, 2014

Wheelchair Freestyle
Bowling Trick Shots
Dog Sees Newborn
Mass Of Daddy Long-legs
Bee Swarm Car
Cat Friend Vs. Dog Friend
Ivan On Winter Walk
Chicken Fiddler
Bode Sleeping While Skiing
T-Rex Illusion
Bizzle Has A Snack
Crazy Eyes
Ping Pong Ball Tricks

S1E8
Gross Baby Sneeze and Two Guys 600 Pillows
December 24, 2014

Thomas Sanders Vines
Original Bike Tricks
BMX Tricks
Smart 4 Year Old
Sprinkles Kid
Surprise Haircut
Magic For Dogs
Cooper Love Ice Cream
Cat Vs. Balloon
Owl In My House
Man Does 30 Animal Sounds
2 Guys 600 Pillows

S1E9
Santa Parkour and Praying Mantis Attacks
December 26, 2014

Parkour Santa
Praying Mantis Attacks!
How To Eat An Apple Like A Boss
Dog Slams Door Shut
Dog Pushes Buggy
Hyperactive
It's Too Heavy
Dog Pees Weird
Ultimate Handshake
Air Horn Prank
Murmuration Of Bird
April Fools Shadow
Most Snorts In 10 Seconds

S1E10
Pizza Slap and Nugget in a Biscuit
December 29, 2014

How Animals Eat Their Food
Baltimore Landslide
Pizza Slap Record
Tiger Cubs
Lion Tries To Eat Baby
Spider Hiding Himself
Most Insane Rope Swing
Pretty Girl Makes Faces
Old Man Crying Like A Baby
Nugget In A Biscuit
Shampoo Prank
World's Fastest Clapper

S1E11
T-Shirt War and Girl Burps the Alphabet
December 30, 2014

Crazy Leg Talent
Cows & Cows & Cows
Raining Food
Otters Holding Hands
Meerkat Tickle
I Love Cats
T-Shirt War
Mommy's Nose Is Scary
Dog Escapes Kitchen
Girl Burping
Highway Prank
Titus Trick Shots

S1E12
Snail Attack and Hallway Swimming
January 1, 2015

High Five For First Kiss
Fenton
4 Girl Chair Trick
Fastest Pizza Cutter
Hallway Swimming
Talking Twin Babies
The Shamwoohoo
Never Again Grace
Potion Overdose
Maker Vs. Marker
Amazing Rat Tricks
Lucky Money Catch