Who should be the featured reactor of September 2020?
Theme: Random
Featured Reactor of August 2020
Episode Count
Last updated 26. May 2020
Featured Video
Welcome to The Fine Bros Wiki!
The Fine Bros Wiki is a fan-run online encyclopedia that anyone can edit for everything related to Fine Bros Entertainment including the React series', sketches, TV shows and more. FBE is run by brothers Benny and Rafi Fine. FBE currently has more than 20 million subscribers and REACT has more than 12 million subscribers. They also have a secondary channel called FBE2 and a Twitch channel called FBELive.
The wiki is currently being brought up to date. Feel free to edit and add to the current 1,893 articles.
FBE React Shows
More React Shows
Community
Live Shows
More FBE Shows
MyMusic
Reactors Birthdays in January
January 1st • Diamond White, Hanoch, Jenn, Noah Sierota and Poppy
January 2nd • Caden and Shar
January 3rd •
January 4th • Izzy Rocha and Kacey
January 5th •
January 6th • Dean Dobbs and Leigh Lahav
January 7th • Athena, Craig Thompson, Kelis and Sofia Wylie
January 8th • James, Jeordy, Johnny and Valkyrae
January 9th • AJ McLean and Wengie
January 10th • Chia Habte and Jay Mendoza
January 11th • Lauren Giraldo
January 12th • Hyebin, Jason Y. Lee, Rachel, Thomas and Zack
January 13th • Jess Phoenix and Nathaniel Motte
January 14th • Moises and ZHC
January 15th • Adam, Brianna and Dove Cameron
January 16th • Amanda LaCount, Cassey Ho, Mel, Robert and Sienna Mae Gomez

January 17th • Austin and Jake Paul
January 18th • Burnie Burns, Eugene Lee Yang, Karan Brar and Kelsey
January 19th • Gavin and Jodie Sweetin
January 20th • Diamond Buckley and Su-metal
January 21st • Jeremy Shada
January 22nd • Brandon Laatsch, Joe Serafini and Yousef Erakat
January 23rd • Michael Stevens and Sam
January 24th • Frankie Grande, Justin Baldoni, Nico and Sierra Schultzzie
January 25th • Lainey
January 26th • Oli White, Rae and Taylor McKnight
January 27th • Ed, Jeremiah and Mikaila
January 28th • Adelaine Morin, Cara, Julia Lester, Lovely, Nick Carter and Sheamus
January 29th • Dianna and Madison Bailey
January 30th • Carlos, Katie and Phil Lester
January 31st • Corinne Leigh, Joel Courtney, Nikita Dragun and Paul Scheer
Creators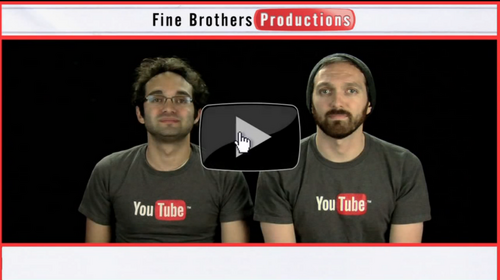 Benny and Rafi Fine are the creators of FBE channel and run Fine Bros Entertainment. They created their YouTube channel in June 2007. Their first videos were mainly sketches. They went on to create many video series including Spoilers, LOST Parody, Emo Dad, and Last Moments of Relationships. They are most well known for their series of react videos. The first was Kids React to Viral Videos #1 (Double Rainbow, Obama Fail, Twin Rabbits, Snickers Halloween) which was released on October 16th 2010. This was very successful and led to the Fine Bros producing other react series such as Teens, Elders, and Adults React.
The Fine Brothers also produced a transmedia web series called MyMusic which had two series and ran from April 2012 - January 2014. The Fine Brothers have produced two TV series: React to That which aired 12 episodes on Nickelodeon from December 2014 - January 2015, and Six Degrees of Everything which aired on TruTV from August - October 2015. They were also the hosts of Six Degrees of Everything. The Fine Bros produced an online video series available through YouTube Red called Sing It.
Links