Who should be the featured reactor of September 2020?
Theme: Random
Featured Reactor of August 2020
Episode Count
Last updated 26. May 2020
Featured Video
Welcome to The Fine Bros Wiki!
The Fine Bros Wiki is a fan-run online encyclopedia that anyone can edit for everything related to Fine Bros Entertainment including the React series', sketches, TV shows and more. FBE is run by brothers Benny and Rafi Fine. FBE currently has more than 20 million subscribers and REACT has more than 12 million subscribers. They also have a secondary channel called FBE2 and a Twitch channel called FBELive.
The wiki is currently being brought up to date. Feel free to edit and add to the current 1,687 articles.
FBE React Shows
More React Shows
Community
Live Shows
More FBE Shows
MyMusic
Reactors Birthdays in February
February 1st • Jihyo and Paris
February 2nd • CAELI, Ingrid Nilsen and Natalie Halcro
February 3rd • Coledias Wilson
February 4th • Daisy and Hannibal Buress
February 5th • Sara Foster
February 6th • Alison Haislip, Ashby, Derek and Dominic Sherwood
February 7th • David Castro, Gabbie Hanna and JACKSEPTICEYE
February 8th • Kairi Cosentino and Molly Burke
February 9th • Charlie Day and Johnny
February 10th • Arlene, CalebCity, Chloë Grace Moretz, Johnny Wu, Jordan Maron and Rob Czar
February 11th • Ethan James, Isaiah Mustafa, Jack Howard, Matt Sallee and Mike Shinoda
February 12th • Kayla
February 13th •
Creators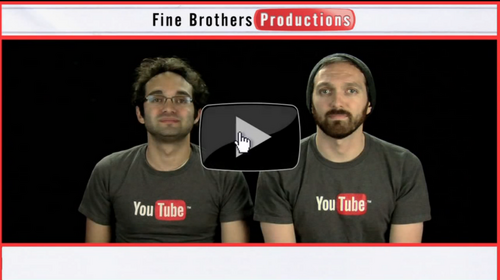 Benny and Rafi Fine are the creators of FBE channel and run Fine Bros Entertainment. They created their YouTube channel in June 2007. Their first videos were mainly sketches. They went on to create many video series including Spoilers, LOST Parody, Emo Dad, and Last Moments of Relationships. They are most well known for their series of react videos. The first was Kids React to Viral Videos #1 (Double Rainbow, Obama Fail, Twin Rabbits, Snickers Halloween) which was released on October 16th 2010. This was very successful and led to the Fine Bros producing other react series such as Teens, Elders, and Adults React.
The Fine Brothers also produced a transmedia web series called MyMusic which had two series and ran from April 2012 - January 2014. The Fine Brothers have produced two TV series: React to That which aired 12 episodes on Nickelodeon from December 2014 - January 2015, and Six Degrees of Everything which aired on TruTV from August - October 2015. They were also the hosts of Six Degrees of Everything. The Fine Bros produced an online video series available through YouTube Red called Sing It.
Links
Community content is available under
CC-BY-SA
unless otherwise noted.