Who should be the featured reactor of September 2020?
Theme: Random
Featured Reactor of August 2020
Episode Count
Last updated 26. May 2020
Featured Video
Welcome to The Fine Bros Wiki!
The Fine Bros Wiki is a fan-run online encyclopedia that anyone can edit for everything related to Fine Bros Entertainment including the React series', sketches, TV shows and more. FBE is run by brothers Benny and Rafi Fine. FBE currently has more than 20 million subscribers and REACT has more than 12 million subscribers. They also have a secondary channel called FBE2 and a Twitch channel called FBELive.
The wiki is currently being brought up to date. Feel free to edit and add to the current 1,874 articles.
FBE React Shows
More React Shows
Community
Live Shows
More FBE Shows
MyMusic
Reactors Birthdays in September
September 1st • Dr. Phil, Leroy Sanchez and Todd Womack
September 2nd • Charles Trippy, Hayley LeBlanc, Kian Lawley, Madilyn Bailey and Madison
September 3rd • Isaiah and Kristy
September 4th • AndreasChoice, Nada and Whitney Cummings
September 5th • Sergio and Sophia
September 6th • Pearce Joza and Shelby
September 7th • Jenny and Kurt Hugo Schneider
September 8th • P!nk
September 9th • Tida
September 10th • Talia, Ted and Yeshua
September 11th • E.G. Daily, Jaxon, JC Caylen and Shirley
September 12th • Brittany and Connor Franta
September 13th • Brizzy Voices, Erinn, Freddie Wong and Jake
September 14th • Daniel, Don, Han, Melissa Leo and Shayne Topp
September 15th • Beau, Felix, Jenna Marbles, Matt Shively and Trisha Hershberger
September 16th • Anna, Anthony Padilla, Charlie Gillespie, Chase Stokes, Ethan and Zach

September 17th • Scott Hoying
September 18th • Aisha Tyler and Jair
September 19th • Danielle Panabaker, Lisa Cimorelli, Luke Reyes, Nick Cimorelli, Sara and Tegan
September 20th • Matthias, Mike and Sophia
September 21st • Lindsey Stirling
September 22nd • Evan, Mamrie Hart, Nayeon and Seungmin
September 23rd • ChrissyCan'tHearYou and Vincent Marcus
September 24th • Daisy Marquez, Ross Mathews and Sierra Furtado
September 25th • Ella Mielniczenko, Greg, Jesse and Sofia Reyes
September 26th • Christina Milian, Evelyn, Lilly Singh, Michael Sifain, Rna and Ulises
September 27th • Ahin, Derrick Acosta, Domics, Grace Helbig, Jaiden Animations, JC and Justin
September 28th • Dane Boe, Glorie, Prestyn and Rebecca Zamolo
September 29th • Zachary Levi
September 30th • Maddie Ziegler
Creators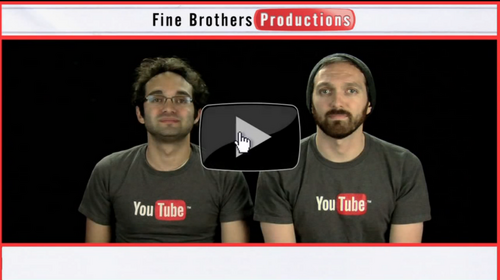 Benny and Rafi Fine are the creators of FBE channel and run Fine Bros Entertainment. They created their YouTube channel in June 2007. Their first videos were mainly sketches. They went on to create many video series including Spoilers, LOST Parody, Emo Dad, and Last Moments of Relationships. They are most well known for their series of react videos. The first was Kids React to Viral Videos #1 (Double Rainbow, Obama Fail, Twin Rabbits, Snickers Halloween) which was released on October 16th 2010. This was very successful and led to the Fine Bros producing other react series such as Teens, Elders, and Adults React.
The Fine Brothers also produced a transmedia web series called MyMusic which had two series and ran from April 2012 - January 2014. The Fine Brothers have produced two TV series: React to That which aired 12 episodes on Nickelodeon from December 2014 - January 2015, and Six Degrees of Everything which aired on TruTV from August - October 2015. They were also the hosts of Six Degrees of Everything. The Fine Bros produced an online video series available through YouTube Red called Sing It.
Links